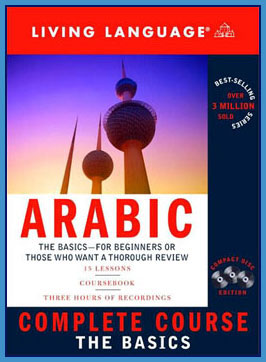 Arabic is an increasingly crucial world language. Those who understand, read/write, and converse in it will have advantages in the job market, at the workplace, at school, in government, in business, and in a number of other areas over the competition.
Up until recently, the learning material available for non-Arabic speakers was very limited in scope and applicability. Now, combining the expertise of
Amine Bouchentouf
with
Random House's
powerful
Living Language
brand, you too can learn this vital language through an easy-to-use practical program!
At over 270 pages, the book contains 15 lessons with in-depth
cultural notes
that will help you get acquainted with Arab and Middle Eastern culture and society; build and strengthen your vocabulary by using the
2-way glossary
; master the basic Arabic sentence structure with the help of the
language notes
and
grammar and usage
sections; and learn how to speak like a native speaker by listening to over 3 hours of Arabic conversation conveniently located in 3 CDs!
Arabic: A Complete Course
is sold around the world, including in
The United Kingdom
,
Canada
,
Germany
,
Italy
, and
Japan
!
From the cover:
15 Lessons will have you speaking Arabic in no time!


Simple words and phrases lead to complete and realistic dialogues


Grammar and usage sections include straightforward, simple explanations with plenty of examples


Pronunciation practice sections help fine-tune your accent


Three hours of recordings feature only native speakers


Special Arabic script sections introduce you to the beautiful Arabic writing system


Cultural notes put your new language skills into context


A two-way glossary and a comprehensive grammar summary serve as invaluable reference tools.

Each package comes complete with a course-book, three hours of three CDs, and an invaluable two-way glossary!


Product Detail:
Author: Amine Bouchentouf


Publisher: Random House, Living Language; CD & Book edition


ISBN: 1400021235


Supplemental Material: 3 Hours of Recordings in 3 Audio CDs

Arabic: A Complete Course is available for purchase in fine bookstores everywhere. Purchase Your Copy Today!
A Random House Book